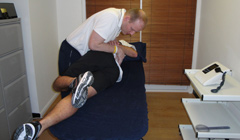 BodySmart Testimonials
We know that what we can do to help you – don't just take our word for it though here's what some of our clients have said about us.
"It has been a pleasure working with Paul Hunter over the past few years particularly during his tenure as a physiotherapist within elite football at West Ham, Queens Park Rangers and Tottenham. He has always been an extremely astute clinician, very good diagnostician and hugely committed to his patients. Paul is a very good communicator. He manages his patients extremely efficiently and has an excellent network of specialists with whom he works with regularly. I have always regarded his management strategies and rehabilitation of the highest standard and would not hesitate to refer patients to him."
Professor Fares S Haddad, BSc (Orth) FRCS (Orth)
Consultant Orthopaedic Surgeon
"I have known Paul for 18 years. We first met in 1994 when he was a physiotherapist at Crystal Palace Football Club and I was the orthopaedic consultant to the club. Since then we have been in contact on a regular basis and more recently, since he set up Bodysmart Physiotherapy. I have been very impressed with his ability to examine, diagnose and treat musculoskeletal injuries. I find him an honest and caring person.

As a consultant orthopaedic surgeon with over 30 years' experience I would highly recommend the physiotherapy and rehabilitation services at Bodysmart Physiotherapy."
T G Kavanagh BSc (Orth) FRCS (Orth)
Consultant Orthopaedic Surgeon
"I slipped my disc last year and came to see Paul. He was excellent in both his manner and his ability and after a number of sessions he fixed my back ! I would thoroughly recommend Bodysmart Physiotherapy to anyone with a musculoskeletal problem."
Dr Raza T Toosy MBBS MRCGP
General Practitioner
"Following a sporting injury and subsequent operation I had spent a year getting little progress on my rehabilitation. I came to see Paul and the transition was total. Paul identified the issues and put a rehab program in place that now has me walking and running with no joint pain and has totally rebuilt the strength in my leg. I am now looking forward to climbing and skiing again! The results Paul has helped me to achieve have gone way beyond my expectations!"
"I visited Paul for a neck problem and after a few visits I felt so much better all, down to Pauls manipulative skills "
"I can thoroughly recommend Paul as a physio. I saw him for an achilles tendon problem and am very satisfied with the outcome. It is great to have a physio who uses the appoitment time to treat the patient rather than do paperwork !!"
"There are physio's and professional physio's. Paul has been amazing; he was recommended by a top consultant and has been fantastic. He has worked tirelessly with our 17 year old son and has finally given him hope in terms of playing sport after a long term injury. We would only recommend Bodysmart Physio having experienced 3 earlier practices. Many Thanks Paul we are so grateful for all your help "
"My first contact with Paul happened when we got referred to him by the PE teacher at my sons' school. My son was nursing a strain on his left leg and was being given the run around by NHS and private clinics. One session with Paul and he immediately grasped the seriousness of the issue and initiated a chain of events connecting us to a specialist child surgeon who successfully operated on my son and he is now fully recovered and enjoying all the sports he enjoys playing.

I then came again in contact with Paul when I reached out to him for my own lower back problem. After a course of acupuncture at private hospital had further aggravated the issue I came to see Paul who as always did a detailed assessment, explained the likely causes and the treatment that he was proposing to carry out. His open, transparent and reassuring style gave me the confidence and after 4 Physio sessions with him I am in far better shape and am now able to carry out most of my daily routine without any problem and consuming pain killers!"
"I came to Bodysmart because I kept on getting pain in my hamstring when playing tennis. After just a few sessions I was back on court and my pain has gone – many thanks!"
"When I first arrived for my first Physio session I was in a lot of pain with limited movement and sciatic pain. Paul was able to assist, quickly enabling me to move more freely following a programme of massage, mobilisation and exercises. Paul was friendly professional and very knowledgeable. I would not hesitate in recommending his services"
"Not only do they give you the exercises you need to do to make you better but they take you into the gym and show you them to make sure you are doing them correctly! "
Phone
0208 680 1800
Email
enquiries@bodysmartphysio.co.uk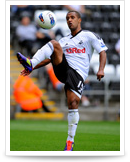 Top class physios who I always go to when I have a problem, they clearly explain what's going on and give me the treatment I need to get back playing. I highly recommend bodysmart physiotherapy.
- Wayne Routledge (Swansea)